This mod will be updated to the Toddler patch on 2017-01-25!
Go here for the update: http://s2idownloads.blogspot.com/2017/01/ts4-new-aging-mod-update-realistic-ages.html
Introduction
With every sims game I love to play with the same lifespans. For The Sims 2 I found the ideal balance (for me that's Realistic Ages 1 Month). For Sims 3 you can change the lifespans as much as you want, so there's no need for a mod.
And now I'm so glad I can announce I made a mod for The Sims 4 realistic ages 1 month.
It has (for normal) the same lengths as my Realistic Ages 1 Month mod for The Sims 2.
Short divides the lengths in half. Long doubles the lengths.
Additional info
Originally my idea was to create a mod 3 in 1. So short would have been realistic ages 1 year, normal realistic ages 1 month and long realistic ages 1 day.
During the making of such a mod I noticed that the longest an age can be is 1548 days. So I decided to make 2 seperate mods (realistic ages 1 month and 1 year (which is upcoming)). So it appears it's not possible to create a mod realistic ages 1 day for sims 4.
Requests
I understand that there will be people who would like to see different spans for the different ages as I made.
I wrote a tutorial to help you make your own lifespan:
http://bit.ly/TutorialTS4
Lifespan changes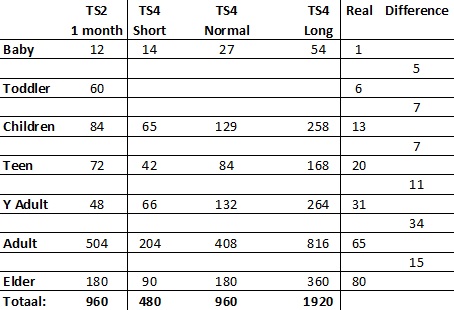 As you can see I added 1/4 of the length of the toddler stage (TS2) to the baby stage (TS4) and I added 3/4 of the toddler stage (TS2) to the child stage (TS4).
Compatibility
This mod is based on Game Version 1.0.732.20. If you notice any problems, please, let me know.
Conflicts
This mod edits the AgeTuning XML, and will conflict with any other mod that does the same.
There are already some other versions of the AgeTuning XML so remember this!
Download
http://bit.ly/TS4PRA1MonthFile
Update March 26 2015, game version 1.5.139.1020
If your game is updated to the patch that game out on March 26 2015
or above
, then you need the updated version.
Install
Unzip the archive and place the .package file in your Electronic Arts/The Sims 4/Mods folder.
Or if you haven't done this yet, do the following first:
1. - Drop the .package in /Mods as usual
2. - Make an empty folder named "unpackedmod" in /Mods
3. - In your resource.cfg, add the line
DirectoryFiles unpackedmod autoupdate
(i.e.: open that file in a text editor and add the line "DirectoryFiles unpackedmod autoupdate" (without quotes) underneath whatever other text it has.)
Thanks to Plasticbox for the instructions
Thanks
If you like this creation, please, press the thanks button and/or leave a comment. Feedback always keeps a creator going for making more new stuff.
Additional Credits
S4PE and Dark Gaia who kindly gave permission to use his mod
I accept requests full time!
If you have a request please go here:
bit.ly/p9ymWC
Please, don't upload these creations anywhere. If you want to share them, share by the button Twitter, Facebook,...
Or share this link anywhere:
http://bit.ly/fSnciT